Call for applications in Katowice Energy Innovation Challenge has been extended! You can apply until 9th May inclusive
Call for applications in The "Katowice Energy Innovation Challenge" has just been extended. It is a challenge for innovative projects from all over the world created by UN-Habitat and the City of Katowice. Three winners will be selected to participate in an acceleration program, organised by the Rawa.Ink Municipal Business Incubator, and present their work at 11th Session of the World Urban Forum in Katowice.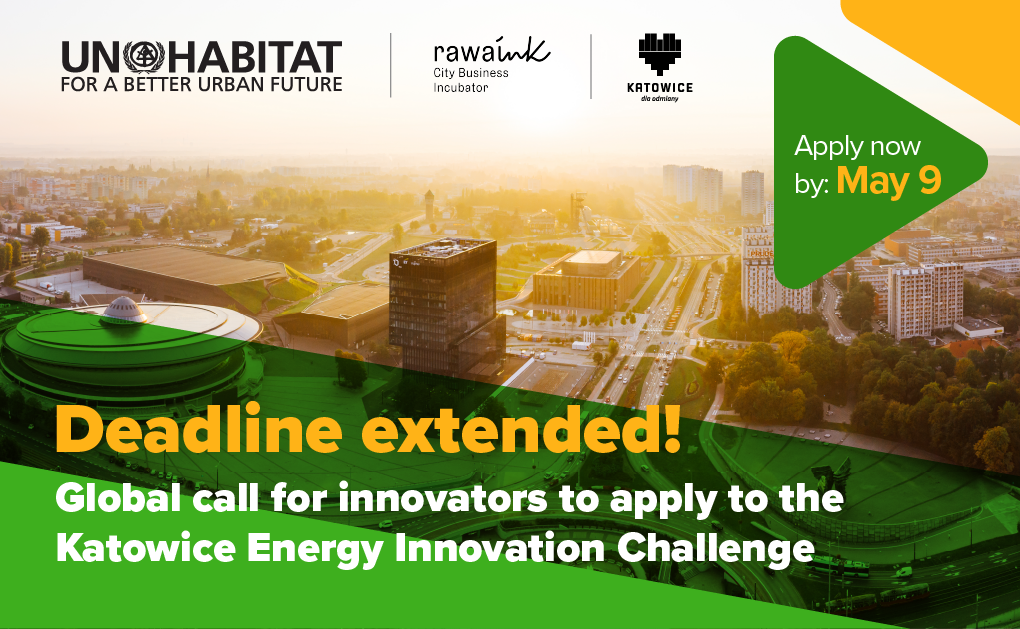 You can submit your projects for the "Katowice Energy Challenge" until 9th May. The workshop resulted in a challenge to find solutions for energy management and energy transition. The proposals will refer to the city of Katowice as it is our city that constitutes the case study of this challenge. The authors of the best 3 projects will be invited to participate in the 11th Plenary Session of the World Urban Forum, which will be held in June in Katowice.
Participants submit a completed application form, including a pitch deck related to an innovative idea, in accordance to the guidelines. The projects should address energy challenges with a particular focus on a specific character and current transformation the city of Katowice has undergone, especially in the power engineering sector.
A special subpage was created in the Un-Habitat website, related to the event.
https://unhabitat.org/calls/call-for-applications-katowice-energy-innovation-challenge
Transforming our Cities for a Better Urban Future – 11th edition of WUF

The World Urban Forum is a prestigious international conference organised by UN-Habitat. It is aimed at the development of urban areas and human settlements. It is the world's largest and most important event on urban development, transformation and policy. The WUF takes place every two years and hosts thousands of participants who represent a wide range of institutions including: governments, regions, cities, NGOs and financial institutions. The last edition of the Forum was held in 2020 in Abu Dhabi, the capital of the United Arab Emirates. Katowice will host the eleventh edition of the Forum.
The World Urban Forum in Katowice will be held from 26 to 30 June, under the theme "Transforming our Cities for a Better Urban Future"