Katowice prepares for the start of the next city cycling season
Preparations to start the next cycling season in Katowice are in progress. The municipal bike rental system will be launched on 1st April and will continue to operate until 1st November, with a record number of stations and bikes available to residents.
City bike systems operating in large cities around the world gained enormous popularity. Residents use them to move around the city on a daily basis, and for recreational purposes. It is no different in Katowice, where every year more and more people use the city's bikes.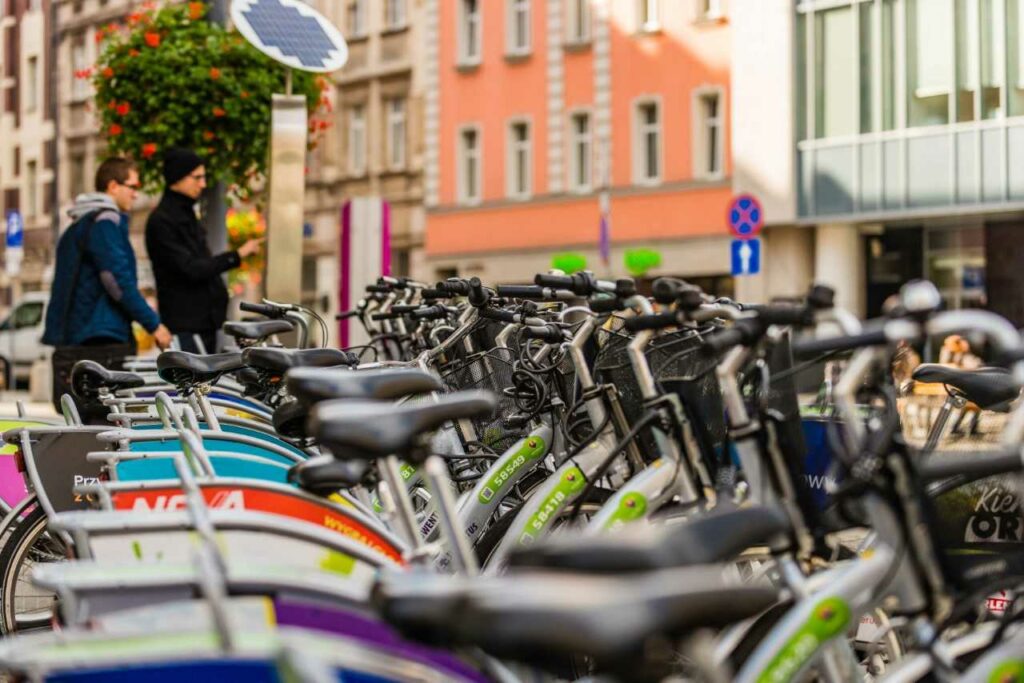 – Katowice is a bike-friendly city. We are investing significant resources in the expansion of bike infrastructure. Since 2015, have been built 36 km of new bicycle paths for nearly PLN 29 M. The city's bike rental network, which we are systematically expanding, is just as important as bike paths. In 2015, we provided 3 stations in "test mode", in 2019 there were already 76, in 2020 – 83, and in 2021 there were 107 stations at the disposal of residents. This year, ultimately, residents will be able to use 125 stations offering more than 1,000 bikes. But of course, we are not going to stop here. In the years to come, we plan to further densify and expand the network," says Marcin Krupa, the Mayor of Katowice.
City bikes are means of individual transport in Katowice, and in last years they have become an alternative to public transport for thousand people. The operation of the bike sharing system, as in previous years, has been entrusted to PKM Katowice. Thanks to a greater number of city bike rental stations, the number of people using this system is also growing. Last year, 9,936 new users of city bikes registered (over 1 thousand more than the year before), and their total number is now over 82,000 people. The most popular bike station in Katowice has been for several years located at the Market Square (in the last season it served over 10 thousand rentals), as well as the stations located at the railway station, at Wolności Square, near Mariacki Church and in the Three Ponds Valley.
The city bike network will be available for residents from 1st April to 1st November. From 1st April the residents will have at their disposal stations in locations known from the previous season (there will be 93 stations fully financed by the City and the so-called partner stations). – Due to the technical capabilities of the network operator we decided, as in previous years, to develop the system during the season. At the turn of spring and summer the system will be expanded by 18 stations in new locations – explains Paweł Sucheta, Deputy Head of the Transport Department. These will be stations in the following locations:
1. Gliwicka/Wiśniowa Street
2. Kościuszki/Poniatowskiego/Szeligiewicza Street
3. Rotmistrz Witold Pilecki Square
4. Rynek – Silesian Theater
5. Powstańców Śląskich Park
6. Spodek – WUF 11
7. Józefowska Street – Sports Hall MOSiR
8. Podlesianka Sports Center
9. Rapid Court
10. Sports Center Gliwicka/Jana Pawła II Street
11. Asnyka Stadium
12. Kościuszki/Zgrzebnioka Street
13. Bolina Park
14. Gwiazdy District
15. Boya-Żeleńskiego/Migdałowców Street
16. Gliwicka Street – MOPS
17. Porcalain Factory
18. 1 Maja/Bohaterów Monte – Cassino Street
This year Katowice is going to spend over PLN 6.6 M for the functioning the automatic bike stations. Within this amount the operator – Nextbike Poland will put the existing stations into operation, install new ones and also will be responsible for the maintenance of the system throughout the period of its operation, from 1st April to 1st November. The inhabitants will also have at their disposal cargo bicycles (20 pieces), which are designed to carry a load of up to 100 kg or four children (each cargo bike is equipped with as many sets of safety belts).