Record growth in business services exports
The latest ABSL report, Business Services Sector in Poland 2022, shows that the sector's growth was higher than expected. In February this year, over 400,000 people were employed in 1,714 service centers. The sector's estimated contribution to Poland's GDP is 4.4 percent, with the value of exports rising to $26.4 billion, recording a record jump of 15.1 percent year-on-year. The surplus of exports over imports now stands at US$11.3 billion.
The business services sector remains one of the fastest growing sectors of the Polish economy. Nearly 42,000 new jobs were created in the second year of the pandemic, an increase of 11.6 percent year-on-year. As a result, the sector's share in total employment in the enterprise sector increased from 5.6 percent to 6.2 percent (year-on-year). 46 new centers began operations, and as a consequence, created 6,400 jobs. On top of this, there is a visible increase in reinvestment, with a smaller number of new entities than last year (74), resulted in a significant increase in the number of jobs. Most new entities arrived in Warsaw and Tri-City (nine each), Katowice and GZM (six) and Krakow (five). Currently, 72% of all centers belong to foreign investors from 46 countries. One in five Fortune Global 500 companies have opened a service center in Poland.
–Over the past two years, reality has exceeded our wildest expectations, as illustrated by the record growth in business services exports. The sector has adapted to circumstances with exceptional speed and agility. Business models have evolved, plans to ensure operational continuity have been refined, and there has been a focus on value. Flexibility and speed of adaptation to changes has allowed for spectacular growth of the sector, which mainly due to reinvestment, means we have been able to take advantage of opportunities and convince global companies to increase their investments in Poland. This work has been done to a great extent by the managers supervising the centers together with their teams. They are an invaluable support for economic diplomacy – says Janusz Dziurzynski, President of ABSL.
Record share of highly specialized business services
The modern business services sector in Poland currently creates workplaces in 1,714 centers of business process outsourcing (BPO), shared services (SSC/GBS), IT and research and development centers (R&D). The complexity of the realized services is systematically increasing. The role of complex processes and a further transition to middle and front-end office processes that generate higher added value is on the increase. Global functions are being transferred to Poland as well. For the first time the share of highly specialized knowledge-based services (KIBS) exceeded 50 percent of all services provided in the centers located in Poland. This result is 6.5 p.p. higher than before the pandemic.
– We have just reached another important milestone. The share of highly specialized services for the first time in the history of ABSL in Poland totaled more than 50 percent of all provided services. This clearly shows that our market has changed a lot and has reached maturity. Taking into account that 130 workplaces were created in the sector every day, an average of 75 jobs were in highly specialized positions, which in turn shows how important the competences of the future are – emphasizes Dariusz Kubacki, Vice President of ABSL. Dariusz also points out: – Executing increasingly complex processes and taking over global functions requires more and more competences both in the digital area and soft competences. We have to join forces in order to implement the introduction of systemic solutions, which are a necessary condition for further development.
Workforce availability as a key challenge for growth
ABSL analyses confirm that one of the most important challenges for the sector remains access to employees with the right competencies. ABSL representatives have for a long time been raising the issue of education as a key factor in the sector's development and the knowledge-based economy as a whole. The events of the last two years have additionally proven the importance of labor market regulations and the predictability of legislation. In addition, global trends, such as changing patterns of work and the increased importance of employee well-being along with high inflation and wage pressures, require companies to take decisive action. As a result, 85% of companies consider looking for employees outside of Poland, and 20% of companies have already recruited abroad. More than half of the companies are investing in educational programs to improve the skills of employees or allow them to acquire new qualifications.
Currently, the centers in Poland employ more than 55,400 foreigners, which accounts for 13.8 percent of all employees. In nearly half of them (47 percent), the number of foreign workers constitutes at least 10 percent. The largest group among foreign workers are people from Ukraine (21.9 percent.), followed by Italy (9.0 percent) and India (7.9 percent.). India appears for the first time in the top three, replacing Spain). Data collected just before Russia's invasion of Ukraine indicated that 12,000 Ukrainian citizens were employed in the sector in Poland.
– Bearing in mind the needs of investors in terms of recruitment, ABSL is actively working to introduce changes in the regulations on remote working and the employment of foreigners. Demography leaves us no choice. It is absolutely necessary to take care of the job market if we want to develop, attract investors, and create knowledge-based jobs – concludes Janusz Dziurzynski.
Vice President of Katowice, Bogumił Sobula, emphasizes: Competition is intensifying between cities to attract not only investment but also employees who wish to relocate. The attractiveness of cities plays a key role in the development of the sector. In Katowice, we have been consistently implementing the policy of improving the quality of life – from taking care of clean air to smart city solutions. All these activities are being undertaken with citizens in mind who want to be an integral part of our city and our community.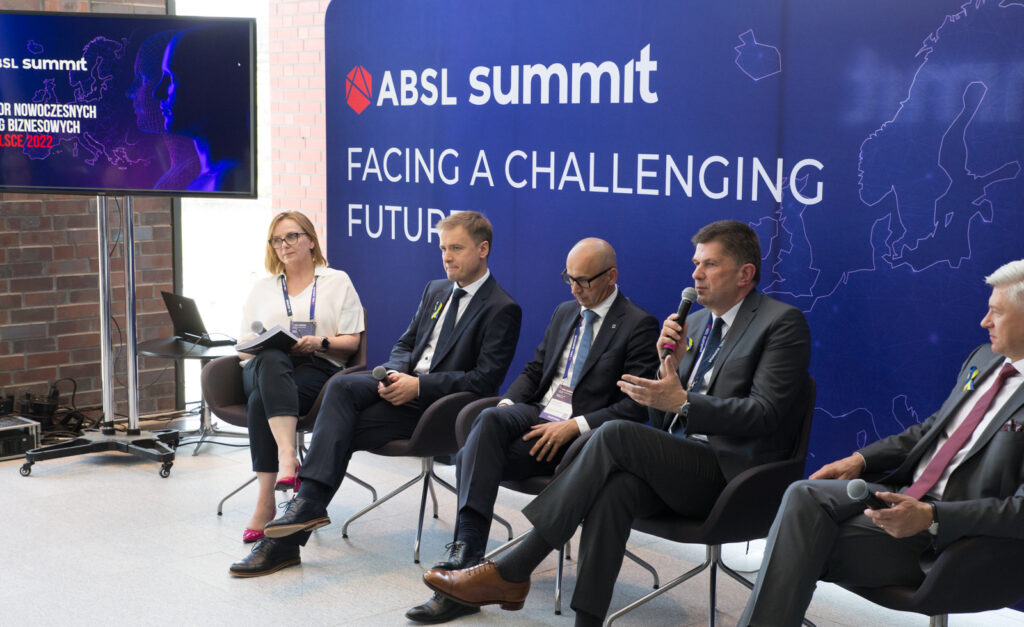 In February this year, modern business services centers were located in 84 cities. In 18 cities, the total number of jobs in the sector exceeded 1,000 people, and in eight locations – 10,000. The city with the largest number of people employed in the sector is still Krakow – nearly 93,000 people. The ABSL 2022 Annual Report shows that almost 85% of companies participating in the survey expected employment growth in Q1 2023, proving that issues related to the labor market and access to the nation's talent pool, will in the near future, be at the forefront.
About ABSL
The Association of Business Service Leaders – brings together over 220 of the world's largest companies, representing a sector in which over 400,000 people are currently employed in Poland. Over 1.7 thousand service centers, dispersed in over 80 cities, create a thriving ecosystem that supports innovative solutions implemented by international corporations. The goal is to build attractive and sustainable ecosystems which, thanks to this positive commitment, will create new, valuable jobs and will responsibly develop investments and business in local communities.
More: www.absl.pl