The latest report for Katowice from the Strength of Cities 2022 series is available!
Report on the attractiveness of the city and the office market for the first half of 2022 is the result of cooperation between Knight Frank LLP – an international real estate agency providing consulting services in the field of residential and commercial real estate, the recruitment company Michael Page with the City of Katowice.
In the report you will find information about:
the most important infrastructure projects in Katowice under construction
basic statistics on the local office market
expectations of potential employees and the specificity of the job market in IT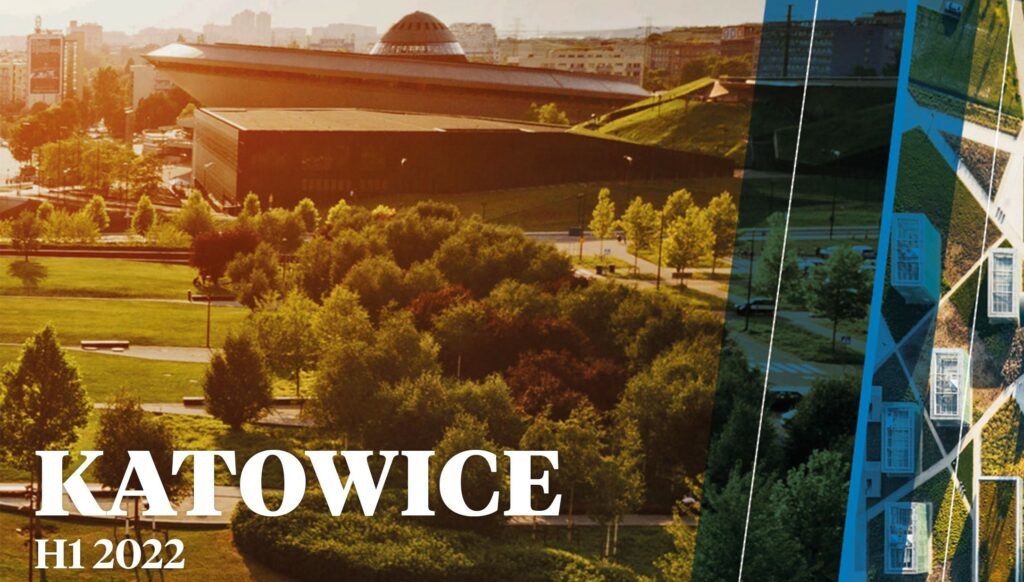 Katowice attractive for tenants
The new supply of 117,000 sq m delivered in H1 2022, is a record value, so far not recorded on this market.
At the end of June, nearly 80,000 sq m was still under construction.
At the end of the first half of 2022, Katowice's office stock stood at over 716,000 sq m. Between January and June, over 117,000 sq m was delivered to the market, compared to the average supply of more than 30,000 sq m over the past five years, this is a record value.
"Katowice is one of the smallest office markets among the leading regional business hubs, but the new office space delivered in the first half of the year is a strong base for current and future firms, providing opportunities for growth for companies as well as for Katowice itself. Considering local government initiatives, academic centres and international rankings, Katowice performs well and is of interest to investors," – commented Iwona Kalaga, Senior Negotiator at Knight Frank
Nearly 80,000 sq m is still under construction, of which almost 20,000 sq m is to be completed by the end of this year. The largest project still under construction is the Craft building (26,700 sq m, Ghelamco).
"In the first two quarters of 2022, tenants signed agreements for nearly 43,800 sq m of office space, an increase in transaction volume of more than 10% compared to the previous year's corresponding period. New agreements accounted for the largest share of the transaction structure with 80%, while renegotiations made up 14% of the volume and expansions amounted to 5% of the space leased" – said Katarzyna Bojar, Junior Consultant, Research Market at Knight Frank.
Despite the high demand, a significant amount of new office space completed between January and June 2022 contributed to an increase in the vacancy rate at 16.1% at the end of Q2 (up 5.6 pp compared to the end of 2021).
Asking rents in Katowice at the end of June 2022 remained stable, ranging from EUR 8.00 to EUR 14.50/sq m/month.
Download the Report: https://bit.ly/3BozXfs !