The whole world in Katowice: Let's meet at the World Urban Forum
After Barcelona, Vancouver, Rio De Janeiro or Abu Dhabi, the time has come for Katowice. From 26 to 30 June Katowice will be the world capital of dialogue for all those who care about the development of cities.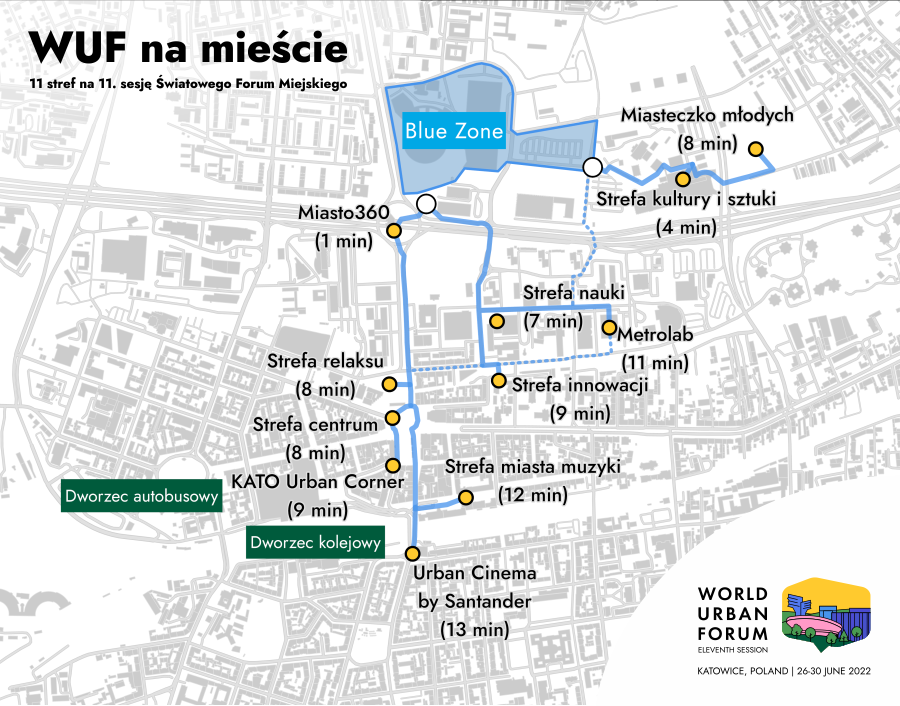 Transforming our cities for a better urban future – this is the motto of the 11th World Urban Forum (WUF11), the latest edition of the largest and most important event in the world devoted to urban development.
Under the aegis of the United Nations, the meeting is organised by UN-Habitat, the Ministry of Funds and Regional Policy and the City of Katowice. For the first time it will take place in Central and Eastern Europe. It is the most important global event on politics, transformation and urban development.
The Forum takes place every two years and hosts from several to over 20,000 participants representing governments, regions, cities, NGOs and financial institutions. For this year's edition of the event there are already approx. 17 thousand people have already registered for this year's event. And let us remind you, anyone can register! WUF11 differs in this way from COP24 (Climate Summit 2018), which was also organised in Katowice under the aegis of the UN, that every citizen can register and see what the event is like.
Registration runs until 25 June and is available at: https://wuf11.katowice.eu/
What is equally important: WUF is not only panels and discussions of world leaders, it is also a series of events addressed to the residents of Katowice and other cities of the Metropolis. Therefore, during the World Urban Forum 11 thematic zones for inhabitants will be launched in the city centre, where a number of attractions will be waiting. The downtown zone in the very heart of the city will turn into the hottest dance floor. A series of events will be held there, during which it will be possible to learn basic dance steps and watch dance shows. On the evening of 28 June, the blues band Cree headed by Sebastian Riedel, Monika Borzym, Kaliber 44, Fokus and Rahim with the original pianist Tymek Bies will play in the area next to the Park Hall. On 29 June, however, there will be another musical surprise – the Boogie Boys and Rita Pax will play on the Katowice Market Square.
WUF11 in the city: let's meet!
In Katowice, under the common banner of "WUF in the city", 11 zones open to the residents of the city and the metropolis are being created. All families are welcome! The zones are located outside the International Congress Centre, but within a few minutes' walking distance at most. In the 11 zones, everyone – free of charge and without registration – will find something for themselves. https://wuf11.katowice.eu/en/11-scen-2.htm
Changes in traffic organisation
Due to the possibility of changes, we encourage you to follow the updated information which will be published on www.katowice.eu.
Changes in Korfantego Street in the section from the roundabout to Olimpijska Street – from 23 June to 3 July:
on the eastern carriageway there will be an additional bus stop, boarding and alighting zones and a ban on parking
On the western carriageway there will be a taxi rank
Closure of Olimpijska Street from the exit to KTW to Góreckiego Street – from 12 June to 9 July
Closure of Góreckiego Street in the section from Olimpijska Street to Haralda Street – from June 20 to July 1
Closure of Olimpijska Street in the section from exit to KTW to Korfantego Avenue – from 26 to 30 June
In addition, due to the organisation of the event, the crossing under the Katowice Roundabout towards Koszutka will be open for pedestrians from 23 June to 7 July.
Transfer centres
We also encourage you to use the Park&Ride facilities operating in the city. They allow you to leave your car in a safe car park and travel to the city centre quickly and comfortably: by tram (CP Zawodzie, CP Brynów) or by train (CP Ligota). Currently, you can park for free in Katowice's transfer centres.
Public transport
In connection with WUF11, there will be changes in the functioning of public transport. From 23 June to 3 July, special bus lines WUF1 and WUF2 will be launched due to the World Urban Forum taking place in Katowice.
The route of the WUF1 line towards the Katowice World Urban Forum stop
Katowice Railway Station 08 – Katowice Liberty Square 03 – Katowice Sokolska 04 – Katowice World Urban Forum 31
WUF1 line to Katowice Dworzec stop: Katowice World Urban Forum 31 – Katowice Chorzowska 01 – Katowice Sokolska 05 – Katowice Plac Wolności 02 – Katowice Sądowa 01A – Katowice Dworzec 08
Line WUF1 from 23 to 25 June and 1 to 3 July 2022 will run from 6:20-9:40 and 13:40-19:40 with a frequency of 40 minutes. On the other hand, from 26 to 30 June it will run from 6:00-9:40 and 13:20-19:40 with a frequency of 20 minutes.
The WUF2 route towards Katowice Dworzec: Katowice World Urban Forum 31
Katowice Aleja Korfantego 02 – Katowice Mickiewicza 02 – Katowice Dworzec 05
WUF2 line route towards Katowice World Urban Forum stop: Katowice Dworzec 05 – Katowice Jagiellońska 01 – Katowice Mariacka 01 – Katowice Szkolna 01 – Katowice Aleja Korfantego 01 – Katowice World Urban Forum 31
Line WUF2 from 23 to 25 June and 1 to 3 July 2022 will run from 6:25 to 10:25 and 13:45 to 19:45 with a frequency of 40 minutes. On the other hand, from 26 to 30 June it will run from 6:15-10:15 and 13:55-20:15 with a frequency of 20 minutes.
A temporary stand of the Katowice World Urban Forum located on Korfantego Avenue near Spodek will be opened for the WUF1 and WUF2 lines.
There will also be changes in the operation of the AP line:
Katowice Strefa Kultury NOSPR 01 and 02 posts will be added to the line.
increased capacity rolling stock will be introduced on the line.
The Metropolitan Transport Authority encourages to follow the website: https://rj.metropoliaztm.pl/.