At present Katowice is one of the fastest growing and most important cities in Poland. Katowice is also the capital of the Silesian Voivodeship and the seat and heart of the first metropolitan union in Poland – Górnośląsko-Zagłębiowska Metropolia (GZM), connecting 41 cities and communes. Due to this fact, Katowice's investment potential should be considered in the light of the entire Metropolis GZM.
Undoubtedly one of the advantages of Katowice is its excellent geographical location, which is certainly not without significance for both the city's residents and numerous investors who have appreciated the potential of Katowice. The city is located in the southern part of Poland, at the intersection of important communication routes, which are at the same time the key corridors connecting Western and Eastern Europe as well as Northern and Southern Europe. Thanks to its convenient location and well-developed communication network, Katowice is one of the most important economic centers in Poland.
Katowice on the map of Poland and neighboring countries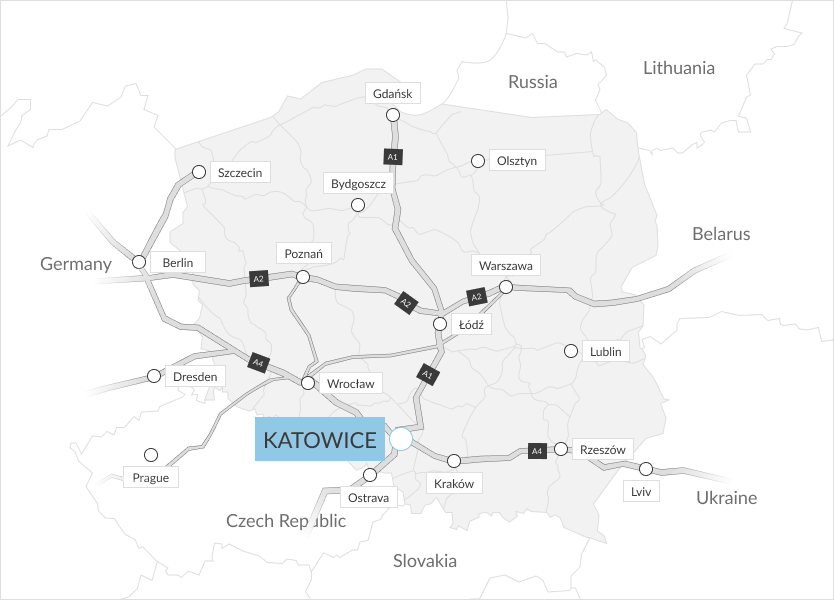 The city's strong position results mainly from its location in the center of the well-connected Metropolis GZM. This excellent location combined with a high-quality transport infrastructure enables an easy and convenient access to the Metropolis – for those who travel by car, train or by plane.
access to 2 highways A1 and A4, express roads S1 and S86, important European road routes (E 40, E 75 and E 462) and railway routes (E30, E 65, C-E 65)
Silesian Intercity Road, so called DTŚ – which is a high-speed freeway that enables convenient transfers between cities in the Metropolis
integrated transfer hubs in Katowice: transfer hub "Ligota" built in 2018, 3 more integrated transfer hubs were completed in 2020 ("Zawodzie", "Brynów", and "Sądowa" with International Bus Station) with over 1,100 parking places
3 international airports only within 100 km from Katowice: Katowice Airport – 30 km from Katowice, Kraków Airport – 67 km, Ostrava Airport – 100 km
majority of European capitals or airline transfer hubs available within 5 hours total travel time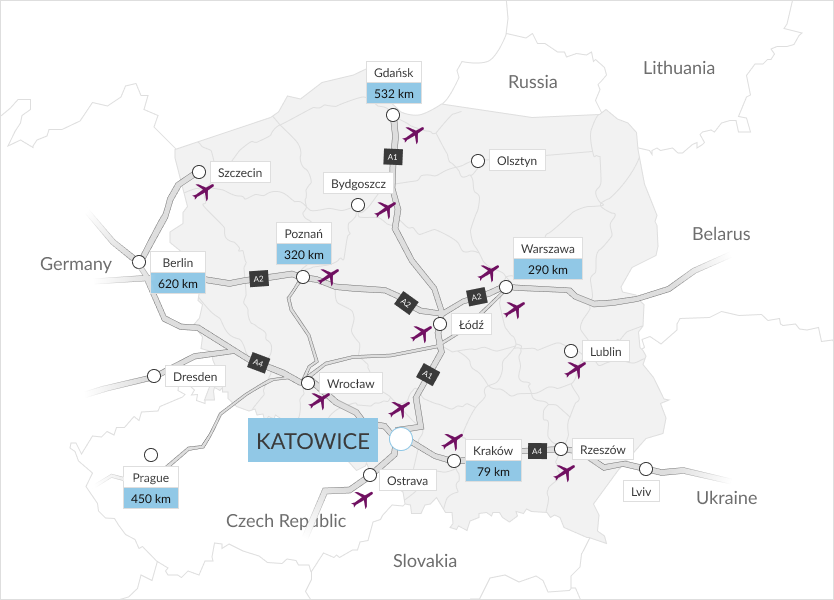 Katowice is one of the best-connected cities in Poland, fast travel around Katowice and adjacent cities is ensured by an extensive public transport network – bus and tram, as well as rail transport. Public transport in Katowice, which is a member of Górnośląsko-Zagłębiowska Metropolia (GZM), is organized by the Metropolitan Transport Board. In the Metropolis there are:
over 400 bus lines
30 tram lines
7 trolleybus lines
Koleje Śląskie Sp. z o.o. provides services on 15 railway lines in the Silesian Voivodeship, almost all regional rail connections in this area.
Every year Katowice becomes more bicycle friendly. City by bike – Silesia's largest bike-sharing system – has operated in Katowice since 2015.
124 bicycle stations with 1002 bicycles
over 180 km of bicycle infrastructure of which 85 km are beautiful, scenic paths in green areas (forests, parks)