Fujitsu has created a new look of the slope next to The Silesian Museum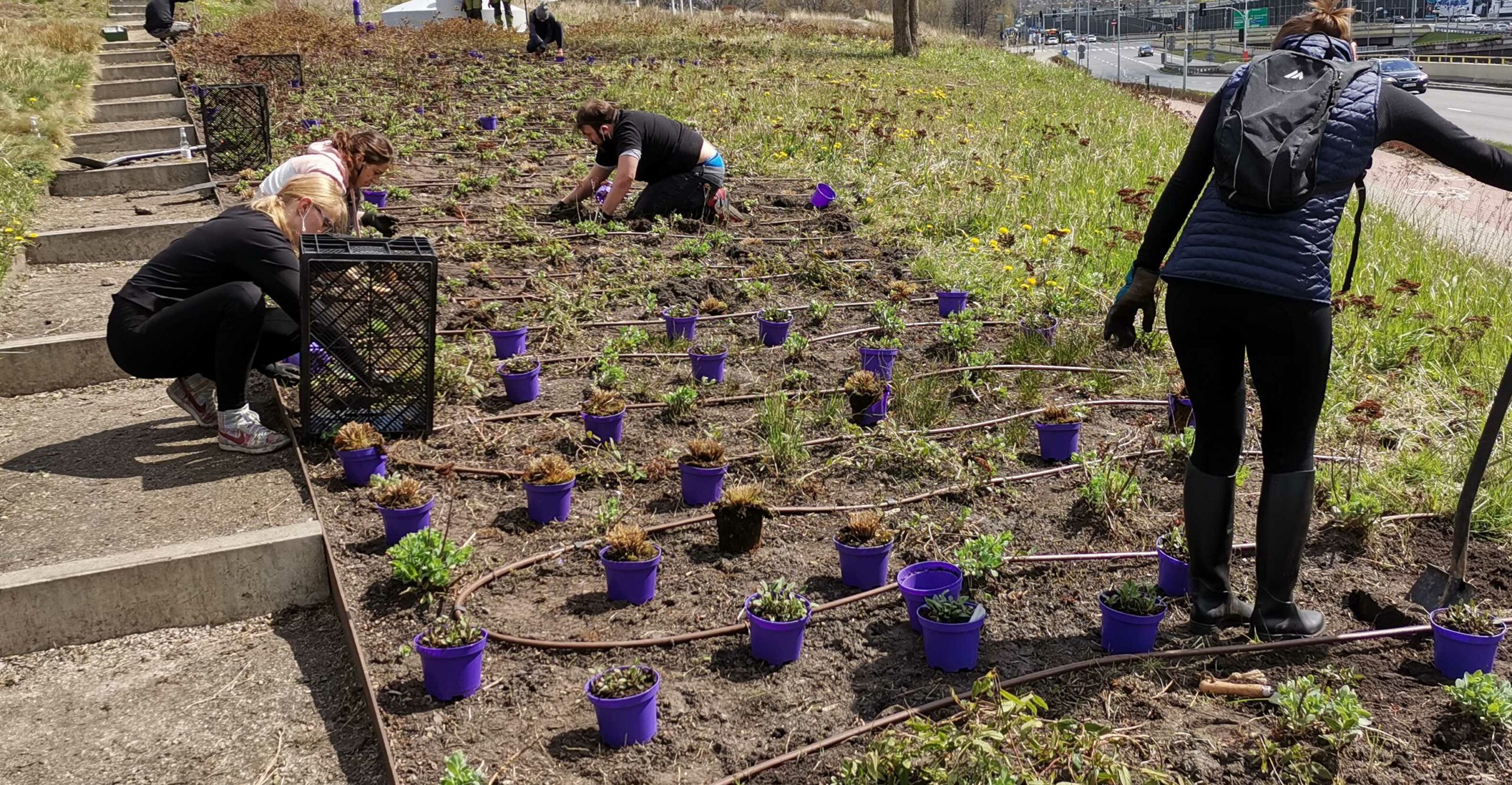 On Saturday 24 April a special event took place in Katowice – the employees of Fujitsu Technology Solutions SP z o. o. put new plants by the slope (Skarpa Śląska) next to the Katowice's Culture Zone, and right next to the Silesian Museum. This action was possible thanks to the cooperation of the company with the City Hall and the Parks Department (Zakład Zieleni Miejskiej) in Katowice.w Katowicach.
– Fujitsu has decided to support the Parks Department (Zakład Zieleni Miejskiej) in the action of putting plants on Skarpa Śląska. Why this area? Because it's near our office building. Thanks to this action Skarpa has a chance to become a green place in the city center. We hope that this will be appreciated by our employees and other tenants of .KTW office building, as well as all visitors of the Silesian Museum. We also want to make at least a small contribution to air quality in the place where we live and work – plants put on the Skarpa will certainly help us in this. In Fujitsu, we are committed to sustainable development and are very happy to support various environmental initiatives, such as putting plants where there are few of them and where could be definitely more. We thank the City Hall for the opportunity to cooperate on community projects and we look forward to continuing! – explains Aleksandra Durzyńska-Prochowska, Head of GDC Poland, Fujitsu Technology Solutions sp. z o. o.
This event is just the beginning of activities on the Skarpa. Fujitsu is expected to make more similar plantings over the next three years on the rest of the slope. This is another initiative, after flower meadows, "wCOP Drzewo" or "ZaadoptujDonicę", which shows that everyone cares of the green Katowice. However, this situation is special, because for the first time this action is organised by the city with the company renting offices in Katowice.
– We realize how important greenery is in the city. We take care of it by revitalizing parks or sowing meadows. It is encouraging, that many green initiatives come from the residents. The City is giving them opportunities through the Green Budget, and any additional action is invaluable. Therefore, the idea of putting plants by Fujitsu employees made me very happy, because it shows that for people not only the workplace but also the immediate surroundings are important. Thank you for this action and I keep my fingers crossed, that it will be continued," says Marcin Krupa, the Mayor of Katowice.