Katowice with the second place in the Local Government Ranking of "Rzeczpospolita"!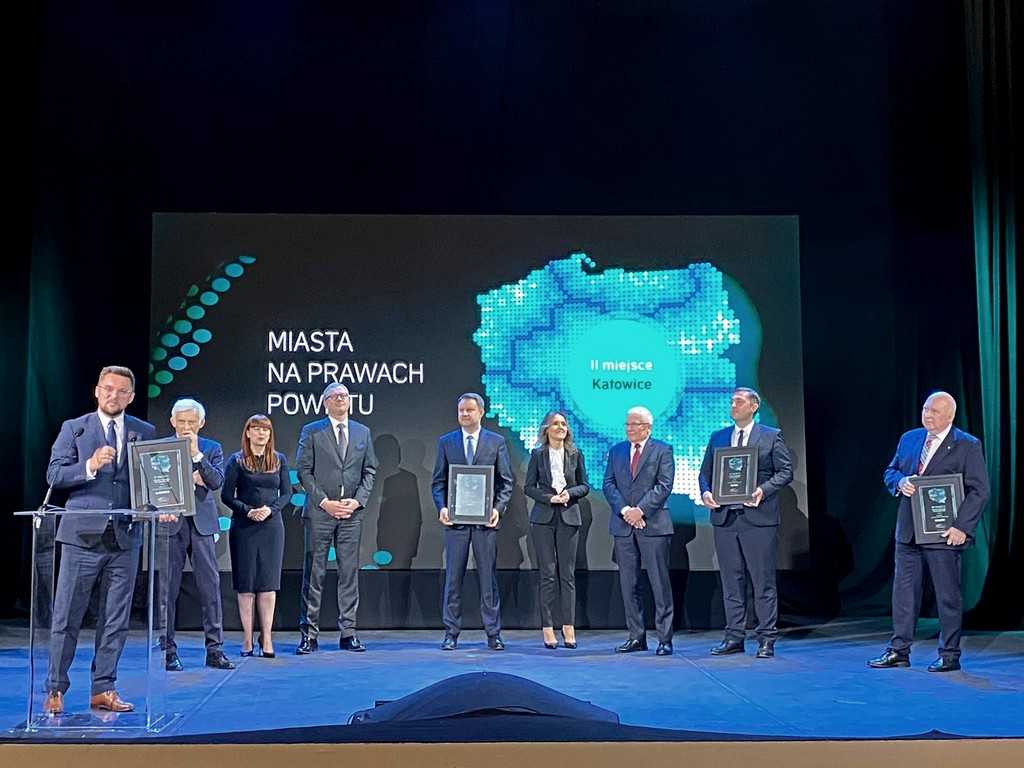 Katowice was among the winners of the seventeenth ranking of local governments organized by magazines "Rzeczpospolita" and "Życie Regionów". The capital of the Silesian Voivodeship won the second prize in the category of cities with county rights. The award was given during a festive gala of the "Rzeczpospolita" Local Governments Ranking on 26th October in Warsaw.
– "Katowice is a clear example of the way Silesia is going through its transformation. Today Silesia no longer resounds with the sounds characteristic of heavy industry. Katowice has opened widely for global business and modern business services sector, not forgetting about activities building sustainable development, such as fighting for clean air, electromobility and taking care of urban greenery," says Marcin Krupa, Mayor of Katowice. – "Thank you for appreciating the work and previous activities of Katowice in this area," adds the mayor.
The Local Government Ranking is prepared separately for cities with county rights, urban and urban-rural municipalities and rural municipalities. The capital city of Warsaw is not included in the ranking due to its different legal system and size. The sources of data to be evaluated are the information provided by the Central Statistical Office, the Ministry of Finance and the information given by local authorities in a special survey. Finally, the Ranking is determined by an independent Chapter headed by the former Prime Minister of Poland, Professor Jerzy Buzek. It also includes representatives of local government organizations, NGOs, public authorities and journalists of the Republic of Poland.
The "Rzeczpospolita" Local Governments Ranking which has been in existence for 17 years is one of the most prestigious and reliable initiatives of its kind. In accordance with the adopted methodology, the ranking verifies effectiveness of local government actions in shaping sustainable development of the local community, presented in strategic categories: economic sustainability, environmental sustainability, social sustainability and quality of management. On this basis, the editors of Rzeczpospolita identify and show local governments that are the most effective in these fields.
As the editors of "Rzeczpospolita" indicate in the justification of the results Katowice stood out in the area of concern for the quality of life of residents, receiving the highest number of points. This is due to, among others, high spending on education, culture, sports and recreation, thanks to which the residents have access to a better offer in this area.
The first prize in the category of cities with county rights went to Gliwice, the third place went to Kraków, the fourth to Gdańsk and the fifth prize to Opole. The second prize was awarded to the mayor of Katowice, Marcin Krupa, during a gala ceremony which took place on 26th October in Warsaw.