The Aebi Schmidt Group opens a Corporate Service Centre in Katowice, Poland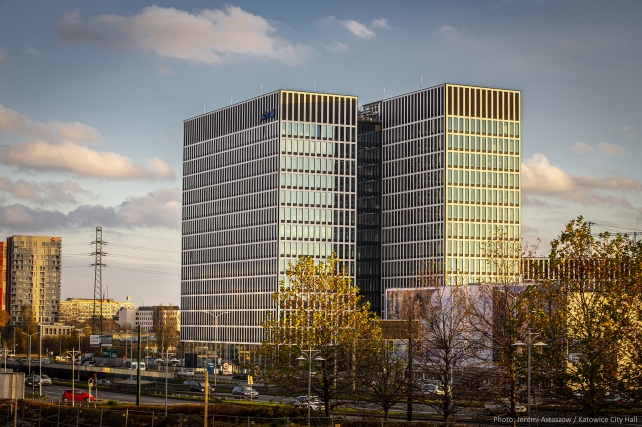 The Aebi Schmidt Group, a global leader of smart product systems and services for the treatment of mission-critical infrastructural and agricultural areas, is setting up a Corporate Service Centre in Katowice, Poland, from 1 September 2021.
– Like most large cities in Poland, Katowice is seeking new business projects. Therefore, the selection of Katowice as the location for the new corporate service centre of Aebi Schmidt Group is a very positive information for us and it motivates us to continue our activities. The investor's decision was based on positive recommendations about Katowice as well as on hard data, such as the amount of human resources, the quality of cooperation with local universities and the availability of modern office space. Katowice's investment potential in these areas is definitely very strong and it allows us to build an attractive offer for new investors – says Marcin Krupa, Mayor of Katowice.
In Poland, the Aebi Schmidt Group already employs around 300 people in production and sales at its Kielce location; now, a new Corporate Service Centre is being established , which will initially support the group in the areas of IT, finance, software engineering and master data management. The plan is to expand the service centre over time with additional services and positions.
The changes in the workplace – digitalisation, market consolidation and growing demands in terms of sustainability – were accelerated and accentuated by the pandemic. Today, the technical possibilities allow networked work at different locations and thus the global talent pool is growing. At the same time, however, the "battle for talent" is intensifying – good employees are being recruited around the globe. Against this background, the management of the Aebi Schmidt Group has decided to establish a Corporate Service Centre that can provide sufficient resources to further standardise and automate the group's processes. Thus, the group is prepared for the challenges of the future.
Barend Fruithof, Group CEO, says about the choice of the location in Katowice: "In recent years, we have had very good experiences in Poland in terms of infrastructure and workforce. This was the decisive factor in choosing Poland as the location for the Corporate Service Centre."
"Aebi Schmidt's Corporate Service Centre is unique in Katowice. Katowice gives access to excellent specialists with knowledge of German and English who are the foundation of our center" – says Wojciech Puch Head of the Corporate Service Centre.
Specialists are sought who, embedded in international teams, contribute hand in hand with their international colleagues to the success of the company. Due to the compact size, employees will also be able to quickly assume group-wide responsibility. The Corporate Services Centre is located in the newly opened CitySpace serviced office, located in Katowice, in the modern Face2Face business building.