EPAM Systems branch in Katowice celebrates its 5-year anniversary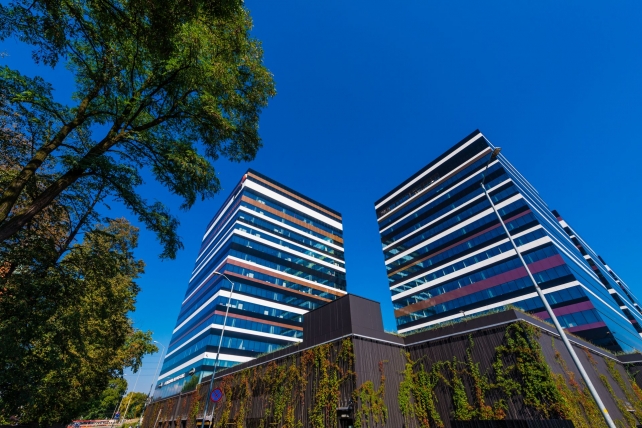 The Katowice branch of EPAM Systems celebrates its 5th anniversary. One of the global leaders in the software industry, this EPAM office location currently employs more than 200 IT specialists from the region and growing. A job at EPAM Katowice can be found, among others, by Java, JavaScript, .NET, QA and Cloud specialists as well as business analysts and Big Data experts.
EPAM Systems has been present on the Polish market since 2011. In addition to Katowice, EPAM branches are located in Kraków, Gdańsk, Wrocław and Warsaw. The company already employs more than 3,000 people throughout Poland. EPAM Katowice offices are located in the Silesia Business Park complex. The location allows easy and efficient access to work from the entire Metropolis GZM (Górnośląsko-Zagłębiowska Metropolia). Currently, the company has a hybrid working model.
– By joining EPAM Systems, IT specialists become part of teams working on implementations for many recognizable clients from around the world. Globally, the company employs more than 43,000 specialists from more than 35 countries. EPAM Katowice employees co-create solutions for leading companies from the financial and insurance sector, media concerns, providers of telecommunications services, weather forecasting systems and many others. Our distinguishing feature is clearly defined career paths and the possibility of continuous improvement of qualifications. Both juniors and experienced engineers and people interested in managerial development can find projects and challenges in EPAM that ensure long-term development – says Dawid Niedzwiedz, Senior Software Engineering Manager managing the Katowice branch of EPAM Systems.
Best place to Work in IT in Poland
In February 2021, EPAM Systems was announced the winner of the AudIT 2020 study conducted by Computerworld in cooperation with Kantar and received the title of "Best Workplace in IT in Poland". EPAM organizes TechTalks, meetups and industry conferences. For people who want to start a career in the IT sector, the company creates educational programs aimed at gaining practical knowledge and project experience. In August this year a 13-week Java Fast Track Program course will be launched for students who want to start working as Java developers. Recruitment lasts until 23 July.
IT potential in Katowice
According to the data presented in the latest report "Business Services Sector in Poland 2021", prepared by ABSL, currently more than 5,600 people study IT-related faculties at universities in Katowice and the Metropolis GZM, and even more experienced specialists implement IT projects in Katowice centers. It is worth emphasizing that IT services are the main category of services provided in centers in Katowice and GZM, and they account for 43% of employment in the industry.
– Thanks to employers such as EPAM, future engineers, while still studying, can gain valuable experience in one of the fastest growing industries in the world. The company's progressive approach lets its employees to continuously develop their skills and creativity. I am glad that the company allows Katowice residents to develop their competences which increases the attractiveness of our city by offering modern services to many globally recognizable companies – says Marcin Krupa, Mayor of Katowice.
The development of EPAM Systems in Poland also opens up opportunities for specialists in the areas of business support and people interested in working remotely. All current job offers are available at: http://careers.epam-poland.pl/careers