Dear modern business services sector leaders from Katowice & Metropolis!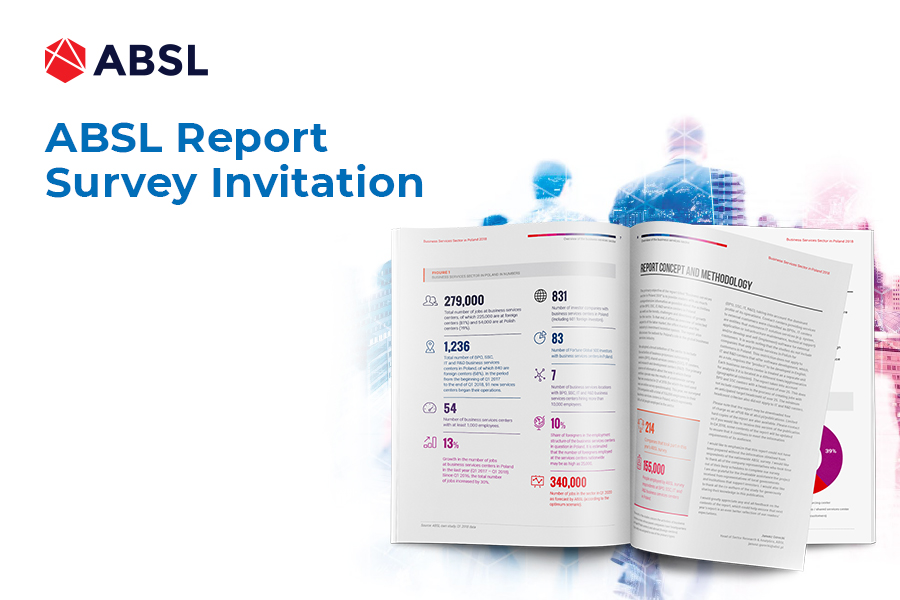 Together with ABSL, we would like to invite you to take part in the survey which will serve as a basis and source of reference for the annual, 14th report "Modern Business Services Sector in Poland" report.
The ABSL report is the study examining the condition of business service sector in Poland, including major locations, employment rate, processes, specializations, salaries, technologies as well as HR, D&I and ESG practices.
In the previous edition we gathered responses from as many as 500 business centers' representatives – we thank you for your trust and invite you to contact ABSL Business Intelligence Coordinator – Paweł Szudra (pawel.szudra@absl.pl).
The survey should be completed by the person responsible for the implementation of strategy and/or operational decision-making in Poland.
You can take part in the survey only once, but it is possible to edit your answers until it closes on February 24, 2023.
The premiere of the report will take place during the ABSL Summit 2023, which will be organized in Kraków on September 6-8.
Thank you for your contribution!