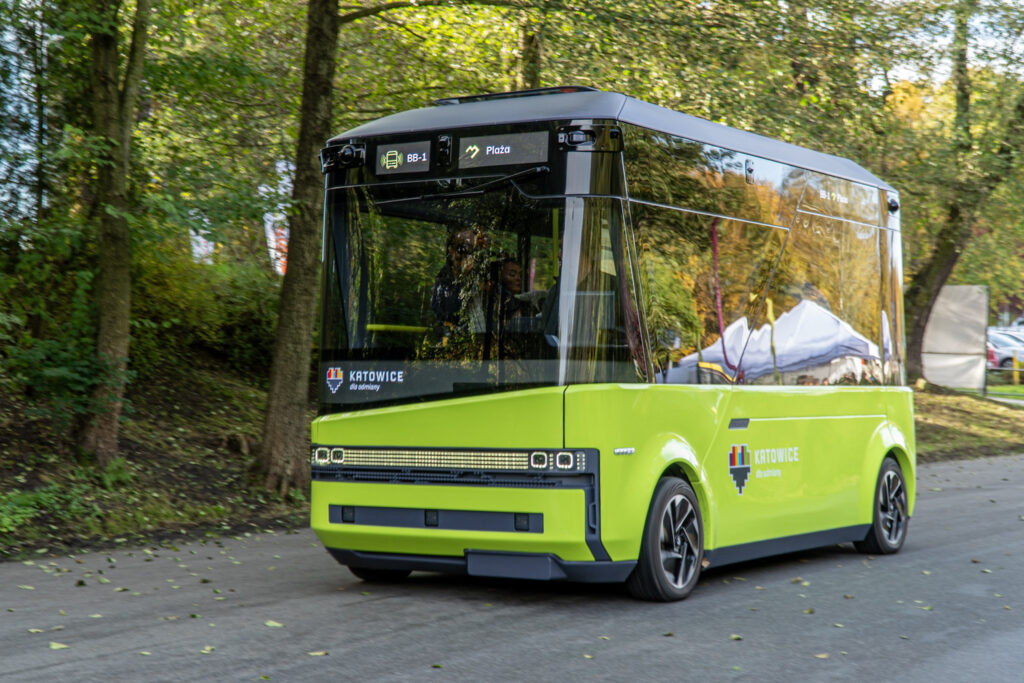 At the beginning of November, the city tested an autonomous bus from the Gliwice start-up, Blees.
During test drives in the Valley of Three Ponds in Katowice, the vehicle moved along a 2 km long route that starts at the Muchowiec parking lot. If the tests are deemed positive, a two-week pilot program will be launched in spring with bus stops along Trzech Stawów Street.
The almost noiseless vehicle has an electric drive and its range is approx. 200 km. It can carry 15 passengers at a max. speed of 25 km/h. The vehicle is equipped with sensors, 3D object recognition systems and artificial intelligence.
'Blees BB-1 is the first Polish autonomous minibus, and the solutions applied place it not only among the top European, but also worldwide vehicles of that kind. Katowice is the first city to test BB-1. It is a bus that moves smoothly and safely, its technology allows it to move independently on the defined routes, to detect obstacles and other road users,' says Łukasz Wójcik, CTO BLEES Sp. z o. o., in charge of creating the vehicle.
The vehicle is equipped with technologically advanced sensors, 3D object recognition systems and artificial intelligence. The key element which enables autonomous driving is an advanced location system, boosting its accuracy. Before the vehicle is put into use, it will also be equipped with high-resolution maps that enhance 'its knowledge' about the terrain including height or infrastructure of the area.
The bus includes, among others: 11 cameras, 4 radars, receivers and sensors in various ranges so the vehicle can operate in changing weather and lighting conditions. The range of the sensors overlaps, which further increases the level of security. They 'watch' the situation both inside and outside the bus. The vehicle detects obstacles and other road users on its way and can adjust its ride to them: to slow down, accelerate and use of brakes. It helps eliminate the 'blind spot'. The operation of the vehicle is monitored by a supervision module that ensures the safety of all road users.
Based on the information from WKS.