The growing role of Katowice in the business services sector
Business Services Sector in Katowice, a report prepared by the Association of Business Service Leaders (ABSL), clearly shows the increasingly important role that Katowice and GZM play in Poland's modern business services sector, one of the fastest developing areas in the country's economy. Katowice and GZM have gained six investors in the last year, the second-best result in Poland with regard to new investments in the sector. Because the region's 126 centers now employ nearly 30,000 people, Katowice is among four cities in Poland where business services can be considered as a strong local specialization.
ABSL analysis and data show that Katowice and GZM occupy an increasingly significant position in the modern business services sector. The majority of new workplaces that were created in the sector, are located in Tri-City, Katowice and GZM and Kraków. Over the last five years, employment in service centers in Katowice and GZM has increased by 67.6% and created a total of 12,000 new jobs. The projected level of employment in the first quarter of 2023 is over 32,000 people. Most of the region's 126 business service centers are located in Katowice (96), Gliwice (14), and Chorzów, Dąbrowa Górnicza, Sosnowiec (3 each). Foreign investors in Katowice and GZM come from 18 countries, with the top three being the USA (25), Germany (13) and France (12). Polish investors currently own 35 centers. The main category of services provided in the region remains IT services.
It is with great satisfaction as well as optimism for the future that I accept the results of the Katowice report for the business services sector in Katowice and the Metropolis. The sector's growth ensures that our local economy is in good shape. Furthermore, the trends highlighted in the report reassure us that we have adopted a good development strategy. In today's world there are three types of resources: raw materials, energy, and knowledge which, unlike the other two, continues to increase. In Katowice, we do everything to ensure that our schools and universities have ideal conditions to deepen the city and GZM's potential employment pool. We have our own program supporting start-ups and an ambitious project of modern computer technologies. We are guided by the concept of cooperating within the golden triangle (business-science-government) and the clear goal of developing a strong innovation ecosystem. In 2024, Katowice will be the European City of Science. So, we are not resting on our laurels and are working to take advantage of the opportunities created by this award to achieve even better results, says Marcin Krupa, Mayor of Katowice.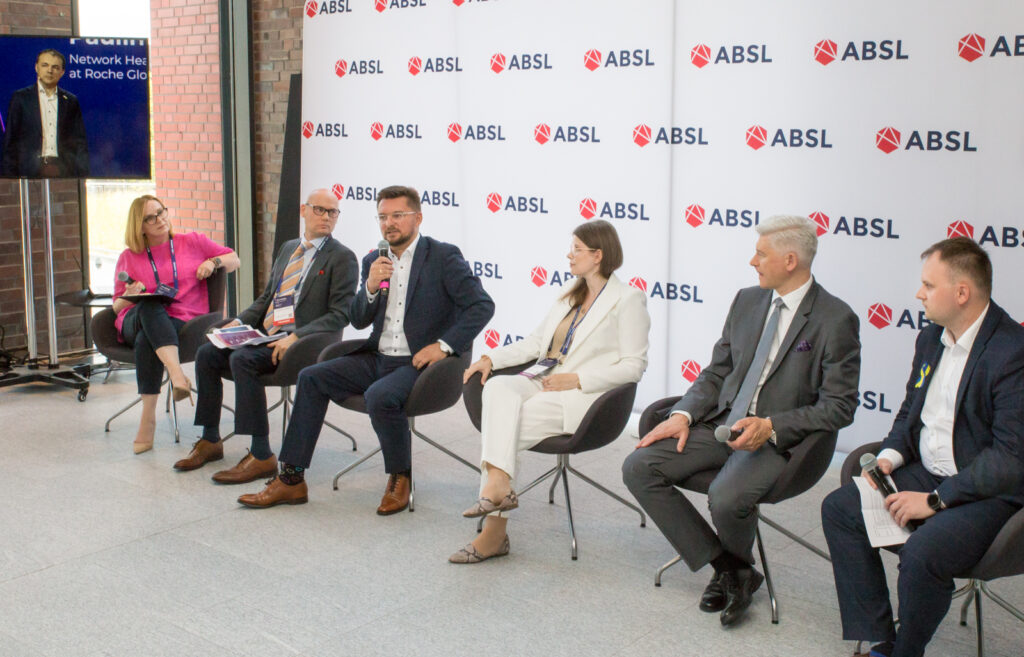 City of the future
In the FDI Strategy foreign investment rankings, published by the Financial Times, Katowice ranked fifth among the top ten major European cities of the future. The city's benefits for investors have remained unchanged for years and include an advantageous location, costs, and market potential, for example, in terms of the labor market and the size of the educated workforce in relation to other countries and cities in Central and Eastern Europe. Katowice and GZM, stand out in terms of cooperation with local universities and the availability of highly skilled employees – claiming second place in both categories in ABSL's annual rankings – are an attractive choice, especially as the key constraint to development is the availability of employees possessing competences of the future.
The main category of services provided by the region's 126 centers is IT services – 59 centers (43 per cent of all employees), followed by SSC/GBS (28.3 per cent) and BPO (17.9 per cent of employed). Other types of services, including R&D, stood at 10.8 percent of the region's total employment in the sector.
– The last two exceptionally challenging years have seen the business services sector exceed growth forecasts. Its importance for the Polish economy is illustrated by a record increase in exports of services which now total USD 26.4 billion and a growing share in the country's GDP, now estimated to be 4.4 percent. It is worth noting that Katowice made a major contribution to the sector's performance both through acquiring new investments as well as cooperation with universities, which in turn, translates into an increased availability of highly skilled workers. In the era of demographic decline it is the pool of available talents with competencies of the future that will play a key role in the sector's development – highlights Bartosz Szary, Member of the Board of ABSL.
Within the GZM metropolitan area, the leading player is most definitely Katowice. This is illustrated by both the number of centers, employment, and access to qualified staff. In the long-term, closer cooperation between cities within the GZM will lead to a further improvement in location and investment attractiveness.
Katowice and GZM is a zone where the importance of business services as a local specialization is very high and is systematically growing. It is possible, among others, thanks to close cooperation of local governments and business as well as companies from the sector in the region. We have common challenges and goals that bind us together – says Stanisław Cieśla, ABSL Silesia Chapter Lead and Site Lead of Kyndryl Service Center in Katowice
The Business Services Sector in Katowice report is a compilation of subjective and objective ranking data, based on the ABSL 2022 survey, which itself is based on the responses of the management of modern business services centers in Poland as well as statistical analyses.
About ABSL
The Association of Business Service Leaders – brings together over 220 of the world's largest companies, representing a sector in which over 400,000 people are currently employed in Poland. Over 1.7 thousand service centers, dispersed in over 80 cities, create a thriving ecosystem that supports innovative solutions implemented by international corporations. The goal is to build attractive and sustainable ecosystems which, thanks to this positive commitment, will create new, valuable jobs and will responsibly develop investments and business in local communities.
More: www.absl.pl
About KATOWICE
Katowice, located in southern Poland, is the central city of GZM Metropolis, inhabited by nearly 2.3 million people. A friendly investment climate is created by a well-developed road network with sustainable transport, access to three international airports and a strong academic tradition. Language skills and multilingualism are confirmed by investors whose business centers provide services in over 30 different foreign languages.
More: www.invest.katowice.eu